5+++++ intense and evocative stars.*****Re-read June 2013. Review edited June 9, 2013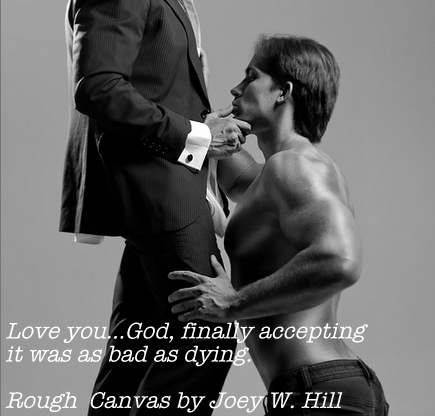 Don't flag my spoiler. The sexy gif has been approved by Goodreads. I have the e-mail to prove it. Thank you.
(view spoiler)

Marcus said to Thomas' mother:
"Accepting what people are, what they can't change and loving them with every part of yourself anyway. That's what love is about." He glared at Elaine. "You take that away from him, you make him believe that kind of love doesn't exist…It would be better for you to shoot him rather than destroy him inch by inch, year after year. If you do that, you're not saving his soul, you're killing it. If you'd look into his eyes for once, you'll see it. How we love is our soul."

Raw and rough. Intense. Evocative. Thoughtful. Emotional. Beautiful.

Holy freakin' hotness! What a fabulous read! Rough Canvas is food for thought. Bloody brilliant.

I am so glad I did a re-read of my all-time favorite M/M book because there's no getting round it to state a simple fact. This book was even better the second time around and I will be re-reading it again and again. *Deep breath, Baba.* *swoon* *Be still my little heart.* Rough Canvas is a book meant to last forever. It's simply f@@@ing perfect, and there are no words that could do this story and Joey's writing justice. Rough Canvasis an amazing and unforgettable love story that provides a severe dose of darkness and sadness, however, the dark parts have been easily outweighed by a lot of light, beauty, love and happiness. Maybe you have noticed the book characters I added to my GR name. Among all those names two stand out. Marcus and Tyler. It goes without saying that these two men are Joey's brand of magic. In fact, reading this book shows more than one master at work, and I'm sure you can guess what I mean.

On a personal note
I was incredibly happy to see Tyler and Marguerite again. Granted, it was a short appearance, and yet Tyler succeeded to make my knees weak. Again. *swoon*

**********

Thomas left Marcus when his father had a heart attack and later on once again when his brother Rory had a bad accident. Thomas is a very dutiful and loyal son and therefore he went back to help his family and never returned to New York. Though one day Marcus comes to North Carolina to deliver Thomas his earnings from the work he left with him. When Thomas left Marcus it almost destroyed him. Coming back to Thomas was not only about art and fees. Marcus wants Thomas back and he's got a specific plan on his mind. Marcus wants Thomas to paint again and to reawaken Thomas' muse, Marcus takes him to the Berkshires for a week.

Marcus Aurelius Stanton. The Dom. New Yorker gallery owner. Foul mouthed. Thomas is sure that Lucifer would have looked like that. Temptation, a hundred percent Grade A, tightly packaged in a hard-muscled six-foot frame. Marcus is a very complex character. He can be gentle and his generosity is limitless and he shows a nurturing nature. All of that, however, was twined by a ferocious darkness. There is a reckless side to his personality, odd moments of melancholy that you will witness and unravel while reading Rough Canvas.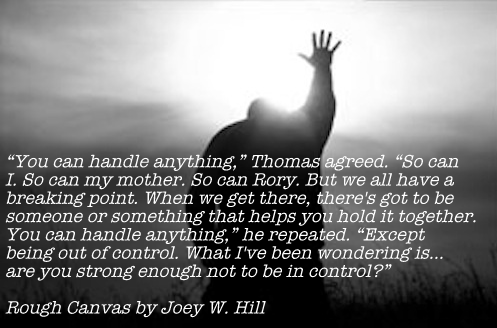 Thomas Wilder. Incredibly talented yet non-established erotic artist. After he lost his father and his brother had been crippled due to an accident, he had to deal with a lot of responsibility. On top of that, his family doesn't accept him the way he is. Gay. Thomas leaving Marcus was not only about his father and brother, he was afraid of his feelings. Thomas did accept that a man can want to have sex with another man, but he couldn't accept that they could love each other. He got too scared of where he was going with Marcus. Moreover, Thomas is not only gay, he is a sexual submissive. Thomas is concerned that his sexual preferences would send his mother over the deep end. Eventually though, Thomas has to face who he is and what he wants out of life.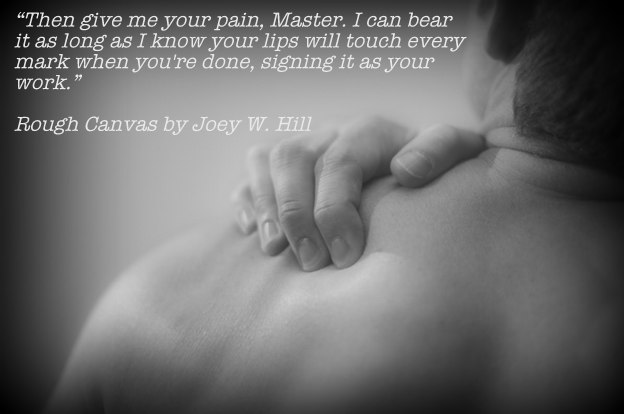 Marcus and Thomas were arguing. Marcus said:


"At least she (Thomas' mom) knows what she wants is dead. What I want just refuses to be with me. Maybe I should compare notes with her on what's worse, for I swear to God sometimes I think if you were dead this would hurt less.


Thomas is insecure and misses the most important things because he's looking at some twisted image he's created in his head, full of faults and shortcomings. Marcus said:


"See yourself the way I see you. Feel the way my hands touch you, think about the way I look at you. I see all of you, Thomas. You think I don't, but I do. Hide it, don't hide it, I know all of it, feel all of it. You're mine. Just let go. Let go and see it. I always have."


Marcus is the man to give Thomas' mom a piece of his mind.


"Oh, for Christ's sake. Nothing is going to make your boy straight, Elaine. I didn't drag him into anything. But you're absolutely right. This is a battle for his soul, and while you may think I'm Lucifer, you sure as hell aren't God. This isn't about you or me. It's about the gift that defines his soul more than you or I will ever hope to do. If he doesn't have that for himself, neither of us will have anything."

"And while we're on the whole God thing, would you like to know what an ignored(view spoiler)
"You're what my art's all about, Marcus. We see something and think we know it, understand it, but really we're lucky if we ever understand any more than a small piece about anything. The infinite of the universe is in each one of us. You're grace, faith. Hopelessness, despair. Violence and anger. Beauty."
"Pain. You overwhelm me," he said quietly. "And every time I see you or think of you, I can't grab a brush fast enough. I thought I couldn't paint you, but it turns out I've been painting you all along, from the beginning, before I even knew you."
"That's when I got it. The rough canvas. God paints our bodies over that, over our heart and soul. It's the eyes that tell us what we're really seeing, what's underneath. So all I painted in the picture were greens. Patterns, random slashes, shapes over shapes, shadows, emotions, it's all there."


The writing is outstanding and when it comes to Thomas' art the prose is just so beautiful. Joey always evokes so much depth and raw emotions in her stories. Gawd, Gawd, Gawd, I wanted to crawl into this book! Rough Canvas is utterly beautiful in its intensity and rawness and it grabbed me from the first page and never let go. I just didn't want it to end. With that said, I loved the evocative and thoughtful dialogue and you'll even find a light touch of banter as well. I totally enjoyed the interaction between Marcus and Julie. She is hilarious and a wonderful woman with a kind heart. Hence, I am incredibly pleased that Joey will tell her story eventually.

Also, I loved the way Joey showed us Thomas, the man behind the extraordinary artist. What did he need to be happy? His man, Marcus, love and acceptance, his art, his family and peace of mind. The author did a mighty fine job at defining every complex layer of Marcus and Thomas. Well, I already mentioned Marcus' multi-layered character. His beauty is not who he is. It's his armor and his way of coping with some very dark memories. In the end it was heart-rending to witness how the beautiful man came undone. It's difficult for a strong man and Dom to let go who is usually so in control of anything and everything. So, his meltdown in front of Thomas as well as (view spoiler) was proof that he trusted Thomas to take care of him. Rough Canvasprovides not many tender aspects, and I think that's the reason I cherished those rare moments all the more. This book has it all. Excellent writing, great plot, fabulous and well-developed characters, mesmerizing dialogue and an important message perfectly wrapped up in s-s-s-s-mokin' hot and very erotic sex scenes. Friendly advice, keep the fire extinguisher at the ready. On second thought, don't put the Kleenex box too far away either, coz I'm pretty sure you'll need more than a couple tissues.




Warning
Chapter eight and nine are not for the faint of heart. Rough Canvas contains very explicit sex and language, toys and bondage. Especially chapter eight and nine are not for everyone. Marcus and Thomas are visiting a BDSM club and the play is public.

Marcus, that's for you...





…and this…




…to pieces.

I truly regret that Marcus does not play for the other team.

Highly recommended if you love to read about a profound, rough, and multi-layered M/M story.


P.S. Rough Canvas gets the Babalicious Stamp of Approval.