UPDATE: Breath on Embers will be released tomorrow. Happy release day, Anne! I'll be thinking of you!

Review completed November 13, 2012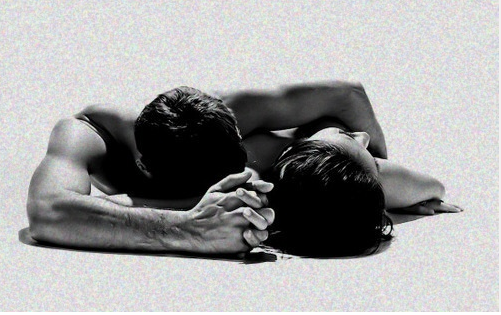 "There is no fix for this. She has to endure it, and somewhere along the line she has to learn to live again. Surviving isn't the goal. Living is. This is a battle between me and her grief, and I'm going to be the last man standing."

5+++ stars.

Erotic as all get out. Utterly sensual. Hot. Thoughtful. Sublime.
That's soulful erotica how I love it, how I want it and masterfully written by Anne Calhoun.

HOLY HOTNESS BATMAN! Breath On Embers is mighty fine erotica and set in a very inspiring atmosphere. In fact, this is Anne at her very, very best! *fans self* On the one hand, I devoured this long novella and on the other hand, I savored every darn word of this exquisite read; I did not want it to end. Kudos, Anne, this excellent and carnal story just blew me away. It doesn't get any better.

How do you move on after life-shattering loss? You live into the light. Step by step, kiss by kiss, you live into the light.

After losing her husband and once-in-a-lifetime love, Jesse, due to a traffic accident two years ago, Thea moved from Columbus, Ohio, to New York in February to work for Cooper Bensonhurst, the investment house, as a systems architect.
It's Thea's first Christmas in Manhattan. Thea hooked up with Ronan nine months ago when she'd met him on St. Patrick's Day on her way back from an appointment with her therapist. Thea had grieving, shadowed eyes and Ronan was incredibly attracted to her. Ronan, the sexilicious FDNY Lieutenant, radiates a calm demeanor. He is self-possessed and controlled, very intense. And Ronan is the man for Thea.

"You keep trying to drown this out. I'll keep doing my thing, but I'm not going to help you go under."

Thea doesn't let herself feel anything, neither pain nor grief and she is utterly numb. Thea is not good with emotions either. She is listening to music all the time, and she is using blasting rock music to drown out life and hot yet meaningless and emotionless sex to fight back the void she's living in every waking minute. While Thea doesn't do emotions, Ronan is so not willing anymore to let her drown in her grief. He wants more than sex. The longer this lasted, the deeper he got into complicated Thea and he wanted a commitment. Ronan wanted emotion. As it was, he possessed her body already, however, what he wanted now was her soul as well.

Thea:
"How can you even think about being awake in the world, let alone caring about someone?"
Ronan:
"Because they may be gone, but I'm not. I honor their memories by living, not by becoming the walking dead."

Ronan the Rescuer, big and tough, knew grief, had been brought to his knees by a tragedy and yet he stood in front of her, a living proof that people did find back to a "normal" life. You somehow learn to cope with your grief and there is a chance to get back to love and happiness. Having said that, Ronan was so willing to throw himself at whatever fire appeared to protect Thea, but this was not about hot flames. Nobody could rescue her from the cold fire of hell, because nothing was wrong except her husband was dead.

"You said you'd never love anyone like you loved Jesse. You're right. You won't because that love was unique to you and Jesse. But you could love someone differently, in a way that was unique to you and--(…)"

"(…)You chose me for all the wrong reasons. You chose me to shut down, to silence all the voices that tell you enough, stop grieving, move on. But I can't be your anesthesia and keep on living. You have to choose to be with me for the right ones."

While Thea is kind of drowning in her grief, Baba was drowning in Anne's sublime writing. Wow, besides an excellent, emotionally-charged and a little dark plot, there is loads--and I mean loads--of sensuality and eroticism. The sex scenes are among the very best I've read to date. Anne portrayed the grieving Thea with subtleness and a fine hand for in-depth characterization. As I see it, everything felt perfectly balanced. Sure, there's plenty of fabulous sex, but the sex mingles seamlessly with the great plot and well-drawn, complex characters.

I loved Thea. She really is an equal, this story is not only about the gorgeous and protecting hero. Even though Thea is grieving immensely, she is a strong character and as a matter of fact, she comes out even stronger at the end of the story. Furthermore, I also liked that Ronan didn't try to rescue her.

"I'm not trying to rescue her. She can rescue herself. I just want to give her a reason to try."

Ronan was there to anchor and guide her, and he knew that she had to find the light at the end of her dark tunnel all by herself. What I found very interesting was the fact that Thea didn't cry in Ronan's arms. Not once. On the one hand, I was kinda surprised but on the other hand, I think it fit the heroine. There were moments of utter sadness when stark naked grief washed over her and she gave in to her tears. Silent tears. Lonely tears. It was moving and intense, it touched me to my core.

"You don't have to be better, or healed, or over your husband. You just have to be here. That's all I'm asking for. I'm not asking for forever. I'm just asking you to be here, now, with me."





The sex at the lingerie boutique Idylle was fantastic. Oh my, it was utterly arousing and so well-orchestrated. Perfect. And the makeout session in the subway? Orgasm, anyone? It was so hot and deliciously good!
Besides the passionate sex scenes, there are some incredibly intimate and tender moments that I treasured profoundly. Yes, Ronan is an alpha with a capital A, and yet he is such a sweetheart, extremely considerate, tender and protective. He knows how to satisfy and take care of his woman.

If you want to read a sensually written and outstanding erotic story, then I guarantee you that Breath On Embers is the perfect choice. This novella will demand your undivided attention. Simply put, it will possess you. While reading Breath On Embersso many emotions washed over me, left me breathless and craving for more. All I can say is read it!

"I wanted it to be you," she said, nearly soundless.
"Only me," he replied.


Highly recommended.


Warning
Breath On Embers contains explicit sex (including oral and anal), some light bondage, a blindfold, and one ménage scene.


Expected publication date: December 3, 2012


**ARC courtesy by Anne Calhoun, author. The pleasure was all mine. Thanks so much--I appreciate it!**






****************************

One of my favorite songs "Breathe", performed by Faith Hill and Carlos Santana

For Thea and Ronan:

http://www.youtube.com/watch?v=aVH77i...


Steam: 4 / Chemistry: 4 / Sensuality: 5 / Eroticism: 5