UPDATE: Members of the Brandon Shire Fan Group will be doing a re-read & buddy read of Afflicted on November 26, 2012. You are welcome to join us!Afflicted II will be released on December 6, 2012!

http://www.goodreads.com/group/show/7...

Review completed September 8, 2012

Wow…what a fantastic book! Brandon sure knows how to write an enthralling and intense story. When you are reading Afflicted you can close your eyes and the words will be raining down on you, embracing you and you will be having a highly intimate and very animated visual.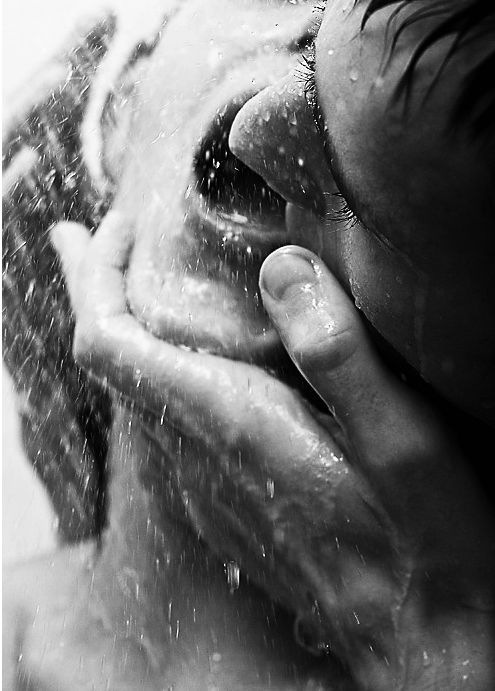 5+++ shiny stars!

Afflicted was a whole new sensory experience for me. Every single touch, every kiss and every smell have a deeper meaning. It will wash over you so smoothly and you will crave for more. It's intense. It's sensual. It's edgy.

Dillon (Frank), a high-priced male escort, stumbled over Hunter on the street. They have great sex but it's not over yet. Dillon is coming back to Hunter's apartment over and over. This is not about a simple transaction, it's more personal. He can't get Hunter out of his head anymore. Hunter who is blind exudes confidence, lust and genuine affability. It's beyond Dillon why he can't stop thinking about him and he really does struggle to take the plunge into unknown waters. Because that's what it was: falling in love is uncharted territory for Dillon. For the first time in a very long time Dillon understood how deeply his father's rejection had affected his life. He is keeping people at a distance and he has issues getting emotionally involved with Hunter.

Hunter had found the deep melancholy Frank had spoken of in his description on their way back to his apartment. It was in Frank's hands. All of it, right there in the slender wrinkles of his hands. The desperate resilience; the annoyed flamboyance; his personable passivity and his phobic aggressiveness; all trapped in the clever wrinkles of his fingers, the hard, unsociable cast of his knuckles, the safe hopelessness of the pads.

Hunter's business was audio books--the small press, cult following kind of audio books. In the business he was known as 'The Ear' for his ability to match voice, character setting, and auditory scene. Hunter has a very acute sense of smell as well. From time to time he can be an over-sensitive yet insensitive d*ck, and sometimes he could react pretty aggressively too. Everyone had treated him gently his entire life, like he was a fragile butterfly. He didn't want that anymore--that attitude enraged him. Hunter wanted Dillon to f**k him like a man--he just wanted to be taken.

"Smell the loam," Lydia had said, grasping a handful under his nose. "That's the smell of death."
But Hunter found life in that aroma; he found regurgitation and the stubborn ache of an eternal spiral that left panic on those near its end. He smelled flowers bending in slow ruin, seeds hard and bold with new life, a river moving lazy through shallow greens. There was affection in that dirt; a touch of flesh meeting the crumbled hand of God. It was all the opposite of what his mother felt about everything.

Seeing, hearing and smelling these two guys together is a thing of pure beauty. The wonderful and at times incredibly lyrical prose meshes beautifully with the raw, lush, intense and edgy sex. I have to say that every sex scene was driven by lust. This was to be man sex. These scenes are exceptionally well-written and highly erotic. Further, I absolutely loved to see how their relationship evolved from pure need for sex to affection and even tenderness. No worries though, the hot sex is still there, 'cause one thing does not rule out the other.




When I was 76 % done I could read one of the most touching and best annotation what love is all about resp. what love should mean to each and every one of us. It was another spellbinding and philosophical moment of utter beauty.

What does love look like?

Yes, you can see what love looks like. There are outward visual signs of affection; that glow in someone's eyes, a specific look. But first and foremost you can feel love and by doing that you don't need your eyesight. Feel it, touch it and listen to your heart.

Oh my, what's not to love about this book? Afflicted is a beautifully crafted work of love. Need, passion, hot and erotic sex, subtle banter, thoughtful dialogue and a truly fabulous and riveting narrative left me breathless and craving for more! Read this book, I'm pretty sure you wouldn't regret it. I also recommend Afflicted to those readers who would like to give the M/M genre a try. Enjoy!

Last but not least I'd like to mention that I love the cover. This slightly blurred vision of a gorgeous man is beautiful, and I think it reflects the story nicely.

The very first time they were together, Dillon's hold was uncertain, a tentative embrace that held no absolutes, no dreams, but just now it was different; it was a grip that sat right on the edge of possession, a possession Hunter would willingly give, if asked.


I strongly advise you to read the author's note


HIGHLY RECOMMENDED!


************

Brandon is listening to music while writing. I quote:

In writing my latest novel, Afflicted, there was an erotic scene I was working on and a certain song I was listening to at the time I was writing it. This song set the tempo and the rhythm of the mood that I was striving for so closely that I added a link to it within the e-book, hopefully allowing readers another level of interaction with the characters. (I haven't heard too much back on that yet, so we'll see.)

BTW, Brandon is talking about the infamous shower scene and the song he is referring to is Ain't No Sunshine, performed by Melody Gardot (Live in Paris). Here is the link:

http://www.youtube.com/watch?v=LCRiPY...