"Sometimes you have to love the unlovable so they can see how it's done."
~Brandon Shire

4.5 stars.****Review completed May 19, 2013

A master at work. I adore Brandon's subtlety and his writing provides ample food for thought.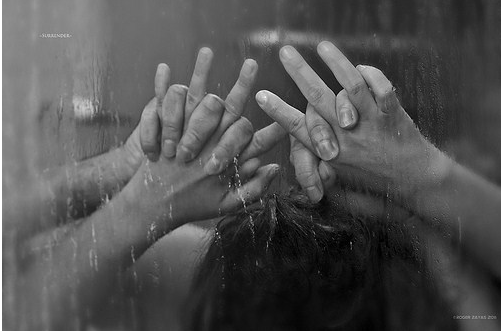 Lem is a gorgeous male specimen and he is so much more than meets the eye. My GR friends know that I'm a sucker for older, sexy heroes. I can't deny it, Lem is right up my alley, and I will shamelessly admit that I was drooling something fierce whilst reading Cold. But underneath his gorgeous physic lies a pretty intellectual mind. Besides, Lem is a nature lover and since childhood my love for flora and fauna and especially the forests and Alps has been strongly rooted due to my family and upbringing. In consequence, my fondness for Lem is not all about his incredible physique, it's something that goes deeper; he brought back plenty of happy but also a few sad memories. He is the reason I took a trip down memory lane and ended up feeling a tiny bit sentimental. So, you see it's very obvious that my review is somewhat focused on Lem. Plus, there is Brandon…Brandon, who? Well, honor to whom honor is due and all that. Let's get started.




Meet Lem Porter who has been sentenced to life in prison for murdering his brother. He has already spent eighteen years behind bars when Ms. Whitfield ordered him to come to her office. She tells Lem that an investigator is coming from the parole board to interrogate him. Lem is surprised because he is not due for a hearing for another eighteen months. Besides, Lem is not keen on leaving prison since he has nowhere to go.


"This ain't a day care, ma'am. Violence isn't an option you can always turn away from."
She looked at him curiously and cocked her head to the side. "You sound like you're trying to make me angry on purpose, Mr. Porter. Is that your intention?"
"Your anger is something which you control, not me," Lem replied, his face blank.


Anderson Passero is walking into his new prison dorm. Only eight months left and he'll be released from prison. That's all he can think of right now. And then he sees a huge man, built like a steadfast tower. Six foot six of solid and scary muscle, steel blue eyes, gray at the temples and scarred forearms. The man is intimidating as all get out. It's Lem Porter. And their paths will inevitably cross again.

Lem loves his work detail at the prison 'greenhouse.' It's his little sanctuary. Though it's not a 'real' greenhouse. In fact, it's a rather shabby, elongated cinderblock shed with sheets of hard, clear plastic for a roof. Nothing fancy at all. What I loved most about Cold was Lem's excellent characterization. Before Lem had been put behind bars he worked with the forest service. The man loves to dig in the dirt, to raise, nurture and cherish bonsai trees. He's got green fingers, for sure. Even though Lem's prison record denotes violence he came across as a rather quiet, remote and reserved human being. That's the reason I think Mother Nature with all its flora and fauna accommodates Lem's personality immensely. Besides, Lem is an austere character, he doesn't need much to be happy. He is incredibly gentle and careful with his plants, and he prefers the nature's stillness over noisy and boisterous people.


He stared at the bonsai on the table, lost in his thoughts. He missed that kind of space, the thousands of acres he had to roam because he was charged to watch over it. There were weeks when he wouldn't see a single soul. It was just him and the forest. There was one spot he particularly liked when he was out west. He'd camp out by Stillwater River and watch the wildlife come in for a drink while he held himself steady in a tree a hundred feet above their head, in awe of their beauty and grace.


I believe that we should appreciate Lem's "deformity" to love him in his simplicity and with all his flaws. I love the connotations of this proverb--it reflects Lem's character perfectly. I find it intriguing that everything--from his personality to his life--is brought together by a short proverb. Brandon, that's so damn smart.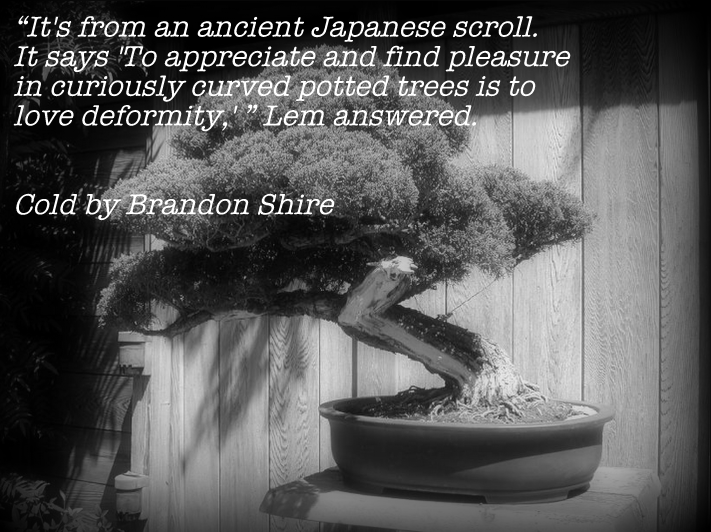 You got more invested in that f@cking tree than you do in your own self. That's the difference between a man and an inmate. A man values himself and the people around him more than he does the things he has. One day you're going to wake up to that fact."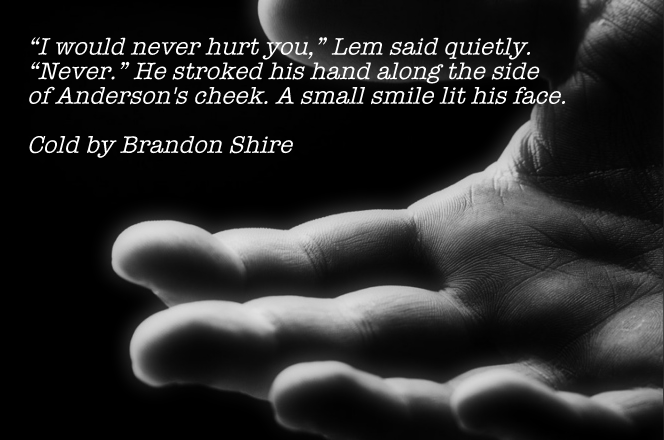 Also, what I found very interesting are the main protagonists' physical contrasts. While Lem is a huge and intimidating man, Anderson is short and a lightweight. At five seven and one hundred thirty pounds he was the polar opposite of Lem. I could go on and list other opposites, i.e. Anderson being a city slicker who loved clubbing while Lem prefers solitude and the vastness of land and forest.




Lem is sporting a huge and very profound tattoo on his back. I won't tell you what it is but it's SO Brandon and I'll give away its meaning:


(…)
"Because when I looked out at a forest from the top of a ridge, I saw the cycle and beauty of life. It was something I used to believe in."
"And you don't now?"
"That's a hard question to answer," Lem said.
Anderson remained silent, hoping he would fill in the gap.
"It's a cycle I'm not a part of anymore," Lem finally replied. "It's all around us outside of this place, but not in here with us."
(…)
"What about us, right here and now?" Anderson asked, feeling slightly wounded by his words.
Lem cupped the side of his head and ran his fingers through his hair. "A false spring," Lem answered, a sincere sadness in his eyes.


Lem and Anderson hardly interact or spend time together during the first half of the story. If anything, the first half primarily depicts the MCs' life in prison. The author tells us why they have been convicted (well, I'm still waiting to be enlightened why Lem killed his brother though), it's about prison life in general and a few secondary characters will be introduced. I'm not an expert by any means, however, I *think* that Brandon did his homework and has written a realistic environment. Also, prison is a cold place to be and violence is pretty high on the agenda. On this account it's not surprising that an act of violence will bring these two together eventually. In a way the pent-up need, want and longing needed a valve. Hence, you can expect to savor some steamy and sexy men lovin', and I don't need to tell you that Brandon knows how to write hot sex scenes.

Though I must say that violence is not the focus of Cold. Not at all. If anything, the plot is very character driven and Brandon will really let you into Lem and Anderson's minds. In this context I think their inner dialogue was very well done and absolutely compelling. Plus, he conveyed their feelings and thoughts very clearly and yet there is always room for your own perceptions. I like to read between the lines, for sure, because it serves as a real eye-opener. A solid build-up and excellent pacing complemented Brandon's fabulous writing. Brandon used the term he's shortseveral times and I believe he wasn't only referring to Anderson's physique. It is probably also about chronology or the timing of their impending "relationship". In fact, there wasn't much time left before Anderson would be released from prison; precious and little time that needed to be savored before Anderson had to leave Lem behind. They made the most of it.

The writing is different from Afflicted. It's not lyrical, there is no real poetry either, and yet I loved it nonetheless because it accommodated the storyline and its setting. It's beautiful in its sobriety, straightforward and very engaging. Cold is not a dark or gritty read; it is, however, a touching love story, sad and painful in parts and romantic in others. Lem offering Anderson(view spoiler) was very romantic, a thoughtful gift that came straight from his heart and touched me very much. You know the saying "Actions speak louder than words."

In the beginning of Cold the author mentioned that there was only one person who knew Lem's secret and that person was dead. So, I'm still wondering what Lem's secret is. (view spoiler) I might be totally wrong but I can't help and wonder what happened.




It's time to carve out a new life, Lem. You don't need to disappear into a forest, and you should give yourself a chance. Moreover, there is someone out there worth taking a chance on. I expect to see that happening in the sequel because I so wantthem to have a HEA.


"Don't forget me?" he whispered.
Lem's eyes opened. He shook his head slightly. "Never. Don't think I could even if I wanted to," he admitted.


Read it so you can see how it's done.