4.5 stars.****Review completed June 10, 2013When you get everything aligned, when love welcomes the longing, accepts it, learns to live with it, you make love.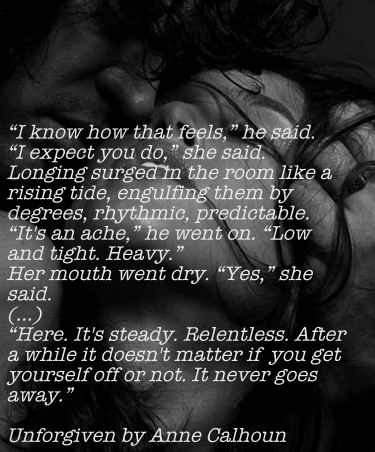 For the last twelve years Adam Collins has served his country in the Marine Corps. After a tragic incident, a very young Adam decided to join the Marines to seek discipline, honor and a purpose--maybe even to punish himself. Now Adam comes home from active duty service to start building a new life, but also to attend the wedding of his best friend with his ex-girlfriend. He is Keith's best man after all. However, his ultimate goal is to start graduate school in South Dakota State's architecture program in a few months. Keith and Delaney will hold their wedding reception in Marissa Brooks's house. Due to necessary renovations as well as wedding preparations it's unavoidable that Adam and Marissa will see each other again. There is some serious history between these two.
Many of us love Anne's erotic stories. Unforgiven is her first foray into contemporary romance and I must say it's been a successful debut. Truth be told, I'm very relieved coz the first 20 % of Unforgiven have been very slow and did not wow me. Besides, the first sex scene (the quickie in the pantry) which took place very early into the plot didn't do anything for me at all. So, I guess you can understand that I was not sure how it would pan out and I was honestly a tiny bit worried I wouldn't enjoy it. Having said that my virtual headache vanished into thin air when I had the pleasure to read the beautiful and very enticing love scene at 28 %. Yowza! From there on everything picked up for me and the story got better and better. Unforgiven turned out to be a great and absolutely worthwhile read and I ended up loving it. The sex was absolutely vanilla for a very good reason. It's contemp romance
not
erotica. Yet I loved those scenes nonetheless because Anne captured my attention through plenty of emotion and sensuality. That's the power and beauty of words.
He settled over her, his cheek to hers, and she reflected on a new facet of touch. Rough-stubbled jaw against soft skin. Breath huffing against her ear as he maintained his pace. The heavy weight of his body pressing her into the mattress. She dug her fingers into his shoulders and clung to him as he moved, pulses of sensation washing from deep inside her out to the edges of her skin. The normally solid boundary between her and the world that disappeared when she took (view spoiler)wavered again, then vanished as release flung her into blackness.
It was like no time had passed at all. Different season, different decade, two seemingly different people, but it was the same. The heat, the passion, the need, the sense of total rightness; and this time he held nothing back.
"That's my secret, Ris. I focus on whatever I'm doing. I block out everything else. Now I'm focused on how tight you are, how you're slick and hot, and I'm paying attention." He stroked in once, twice, and pleasure began to simmer. "That's good," he said.
"You're cold," she exclaimed, then brushed her thumb over his lips. Even those were cool to the touch.
"I don't feel cold." His voice was distant, remote, as if the forty-degree temps and fog had chilled his voice, too.
She let her hand slip down his jaw to rest on his chest. He looked down at her, physically present, emotionally in the cold emptiness of space. "Says the Marine. I know cold. You're cold."
At its core Unforgiven conveys a thoughtful and important message. Set yourself free from your self-imposed fetters and self-punishment. We live and make mistakes and we learn. There comes a day when you have made enough atonement for past mistakes; ask for forgiveness and it will be granted. And first and foremost don't stop dreaming. Never. Ever. Like love dreams come in different forms and shapes at the most unexpected places. Find and
live
your dream because life is too short to dwell on past mistakes that you cannot change anymore. Make your life worthwhile, live it to its fullest, let yourself be loved and love right back.
"It's the sun," she said through the lump in her throat.
"It's always there, Ris," he said gently. "Sometimes you just have to go searching for it."
To err is human. To forgive is divine. Neither is Marine Corps policy. The bumper sticker on his car said it all. No mistakes. No forgiveness. It's a Marine thing, he'd said casually to Marissa. But life didn't reduce to a bumper sticker, and maybe that was the answer to who he was when he wasn't
this Marine.
Not inhumanly perfect, or unable to forgive. Just Adam. Just like everyone else.
Just keep on dreaming…and act on it.
Sex in the shower...
"Slow," he said. "Really slow. Like it has to last forever."
I LOVED…
(view spoiler)
How clever, insightful and creative is that?
I loved the small town setting in South Dakota and the steady downpour set the pace and atmosphere of the story.
In a way the constant rain and chilliness were perfect and emphasized the melancholic aspect of Unforgiven.
After all, seeking redemption and absolution is never a happy task. Friendly heads-up, Unforgiven is not a fluffy and light romance. There's a wistfulness which is always hovering over the book, however, it did suit the plot perfectly and it was well-executed. The more I read the more I got into the swing of things and I recognized Anne's script. It's her distinct and poignant 'voice' that I became fond of over the last few years. Also, she sure knows how to write arousing sex/love scenes that will make my girlie bits tingle (I'm not talking about the sober and boring quickie in the pantry). Most of the love scenes of Unforgiven are incredibly intimate and I could feel their hunger and longing for each other. Plus, the heroine, Marissa, was quite a revelation. It doesn't happen too often that I have the privilege of meeting a strong heroine with an interesting and very creative vocation. Let's face it, it's very common that renovations and carpenting are tasks that men take care of, yet I really enjoyed to see Marissa at work. She truly did a great and inspiring job, and behind the tough craftswoman we see an enticing and sexually experienced female.
Adam's powerful speech at 79 % was
A-mazing.
All I can say is that's
true class and it takes a very honorable man to do that.
Kudos to Adam and of course to Anne! And I totally get it why he acted the way he did. He couldn't have changed a single thing anyway and he stayed true to himself.
Minor quibble
Aside from the not overwhelming beginning I wanted an epilogue because it would have been nice to see these two a few years down the road.
Looking at the whole picture then it's obvious that Unforgiven is a wonderful flavor of good plot, beautiful love scenes, interesting characters all wrapped up in a strong and thoughtful message.
Next up is Lucas and Alana's story and Anne told me there will be more of Adam and Marissa AND Nate in
Jaded.
I'm hopeful that Anne will tell Nate's story, too. I can't put my finger on it but there is something about Nate that appealed to me. A lot. The man is a piece of work, I'm sure.
Recommended read.
"I'm asking. Please. Give me something more than a facade, more than a dream. Give me something real. Give me you."