4.5 stars.*****Review completed September 8, 2013
Holy Hotness Batman!




Rachel Hill, a virgin, (no spoiler, read the blurb) left the devout Elysian Fields Community of God to discover what life has to offer, and she savors her newly found liberties tremendously. Besides, she enjoys her work at a farm to save money so she can go to vet tech school. And she's very keen on loosing her virginity. In fact, she wants to explore all kinds of new feelings without restraints and is ready to "sin". Her plan seems to work when she sets her eyes on a specific and very sexy man who attends an auction at a fund-raiser. It's badass SWAT officer Ben Harris who is sporting a flirtatious and dangerous smile and hastrouble stamped on his forehead. Rachel pays a cool (view spoiler) to spend a nice evening with him. They fix a date, eat dinner and have sex. The morning after, however, Ben is stunned to find blood at the base of his dick and condom and he demands an explanation from Rachel.


He lowered his voice just a little. "I want an explanation. You want to do it again. Longer. Slower. Hotter. This time we'll both get what we want."


The story takes it from there, and what was intended to be educational, no-strings-attached sex becomes something more; something intense and complicated.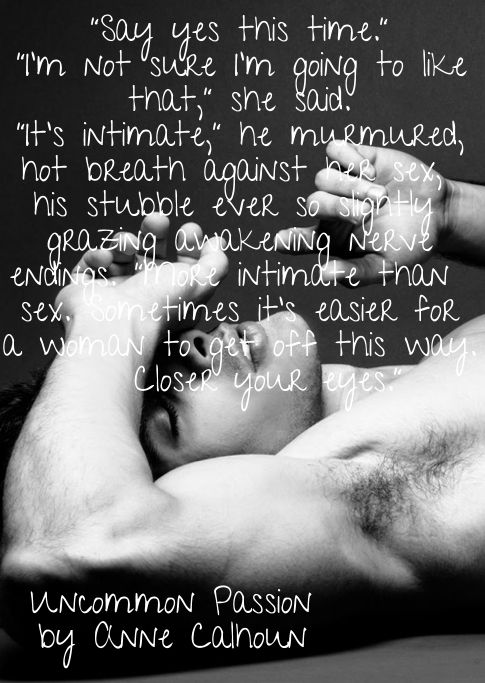 Heat rose in the golden brown depths, transforming them into aged whiskey. When her soft pink lips parted, he couldn't help himself. He bent and kissed her, lightly at first, using heat and the merest pressure to tempt her to open to him, then touched the tip of his tongue to hers. She shuddered from head to toe when he did, and he edged her panties down a little farther to the tops of her thighs.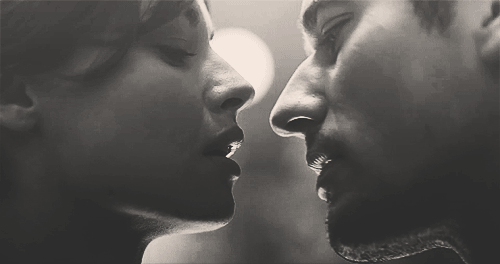 And then Baba did a 180 when she read that:

"I trust you. But that's not what I want to do today.(view spoiler)
Heart to full stop. He stared at her, not sure he'd heard her correctly. He bit back his automatic response of fuck, no. "Come again?"

Oh, Ben, close your mouth please. *sigh*

Anne, you snarky woman, you did surprise me! Lol I mean I expected another sizzling hot scene à la (view spoiler)

"Has anyone ever set out to (view spoiler)
(…)
"Trust me, Ben."

What followed suit was fan-fucking-tastic sex. *shiver*


Then her mouth covered his, her hands holding his face where she wanted it, and the heat and need in the kiss immobilized him. It was complex, an intricate blend of tongue and lips brushing, nibbles and sucks to his lips, calling him out of the past, and when it ended he was in a state of sexual arousal unlike any he'd ever known. Maybe, MAYBE he'd taken this kind of time with a woman. Never had a woman taken this kind of time with him.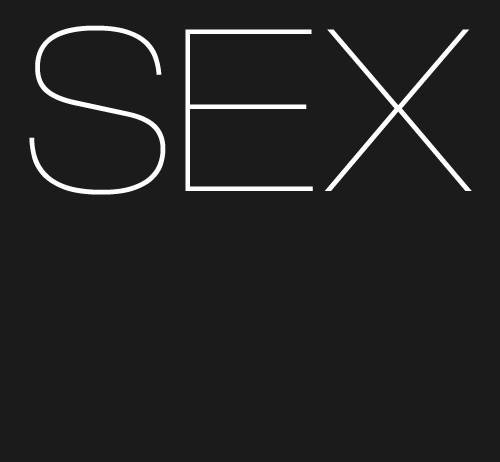 According to Anne Calhoun this is Ben. I like his smile.
(view spoiler)

Minor quibbles
Throughout the entire book I so wanted to see Ben cuddle with Rachel. Darn, it didn't happen until the end. In any event, the header of the story is more like sizzling hot sex lessons on Sundays, no cuddling included anyway. That's the reason I "only" gave this book 4.5 stars. Then again I shouldn't complain at all because Anne portrayed Ben realistically. Ben's behavior reflected his character and it took him a while to change his habits which was fine by me. Ultimately, the love weaseled its way into Ben's life towards the end of the plot. Irrevocably.
We shouldn't forget either that at its core Uncommon Passion is an erotica book with plenty of panty melting and absolutely fabulous sex scenes.

I think the cover doesn't reflect the story in the least. I would have chosen something way more erotic and sensual; maybe a man and a woman, probably something in black and white. There is nothing more beautiful than a black and white cover that depicts a couple in the throes of passion. Sorry, but when it comes to black and white photography I'm clearly biased. :)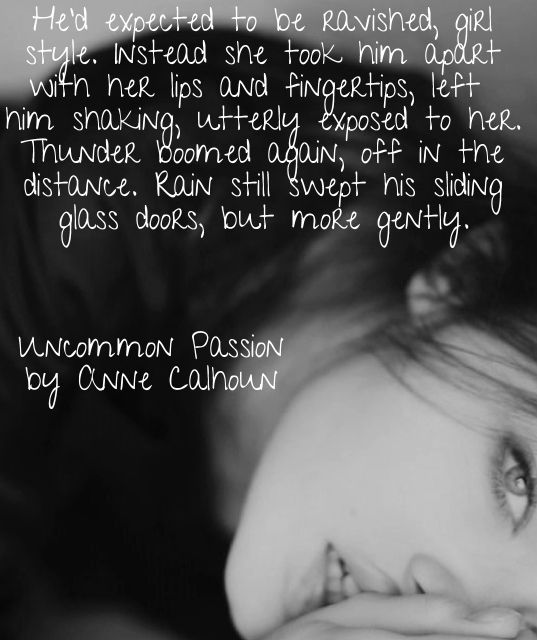 While I wasn't a fan of the first sex scene I must confess it was authentic and could have happened this way in real life too. I will, however, stick to my opinion that Uncommon Passion contains the best sex scene that Anne has ever written. What happened at 54 % left me totally breathless and stunned. A perfect symbiosis of passion, want, need, sensuality and awareness--heart and soul aligned. This scene was absolutely perfect in its white-hot intensity. It's kinda odd because I can't really describe what happened there and then. Even though they didn't love each other yet, it was so much more than sex. Geez, the whole thing ended with Ben being thoroughly shaken to his core. So, so beautiful. I can't tell you how much I loved and treasured this scene. Rachel took him apart with her fingers, mouth, tongue and her entire body.

I marvel at Anne's writing skills; what a heady flavor!
It's amazing how Anne orchestrates the sex scenes. There is so much pulsating energy that will make you feel giddy, wanton and alive. Hell, Ben can push me against a wall any day--I'm game, you sexy beast! Anne's writing is voluptuousness pure because she makes you feel all kinds of intricate emotions. Witnessing the level of sensuality, eroticism and emotion that this story provided was incredibly delicious. I just wanted to wallow in it and…just feel. That's exactly what distinguishes her erotic stories from plain ole porn. Anne has a way to heighten my awareness, to make me want to soak up every word she writes. Due to the fact that she accomplishes to put so much emotion into her words, her stories have a great forward movement; it's addictive, once I start to read one of her books, it's hard to put down again.

Ben's uniform is his shield and it gets him women. Lots of women, actually, and lots of meaningless sex. Yet the sex only feeds his resentment and anger. I was frustrated over Ben's obstinacy several times, yet I was rooting for him when he finally, finally, came around. There is nothing better than a tough man dealing with his fears and shortcomings and falling down on his knees eventually. Imagine a suitcase filled with stones. That's exactly what Ben was lugging around for the last fourteen years, and when you have such a heavy load to deal with, not everything will be sunshine and roses only because a wonderful and pure woman steps into your life. It's a process that takes time. What happened with Ben when he met Rachel is, in a sense, comparable to the five stages of grief. Denial and Isolation. Anger. Bargaining. Depression. Acceptance. I won't lie, Ben is very hard to love. And even though it took such a long time for him to show openly that he is an all-around great man, someone who cares so deeply, it was so worth waiting for. The longer the wait the sweeter the reward, because the final 10 % were incredibly beautiful, romantic and filled with the good kind of sweetness.

Rachel was a remarkable heroine, definitely no whiny wallflower at all and a quick study. Ben can tell you a thing or two about it. In spite of her religious background she wasn't the helpless victim, and she wasn't someone who we should pity either. If anything, she showed her true qualities when she took Ben apart. She is strong and empathic. Although she lacked experience in many areas of life, she is a rather perceptive woman, and after a while she looked right through Ben's armor. What I also loved about her was the fact that she wasn't afraid to stand up for herself, to voice her opinion and to make demands. Rachel really knew what she wanted out of life and worked hard to achieve her goals.

A nice bonus was Ben's (view spoiler) One look at (view spoiler)and I was so excited that I let Anne know she should (view spoiler) Here is a little part of her response:

(view spoiler)

Oh my, please do it! Pretty please! Am I allowed to squeal?

You must listen to this song when you are reading the final 10 % of the story. So good!

(view spoiler)

Uncommon Passion is an excellent erotic romance novel. It does provide everything I need and want in my erotic stories. Scorching hot and utterly erotic and sensual sex as well as great and multilayered characters. Plus, there is even a good plot to go along with the steamy sex. What more could one want? Read it. Satisfaction guaranteed--pun intended.




The light shone again for Ben thanks to Rachel. Ben gave Rachel sex lessons and Rachel taught him how to love. A perfect symbiosis.


He kissed her, and only kissed her, giving her the kiss she should have had the first night they were together. He infused it with hope and optimism, an offer of his soul and his future, everything he had and was and did was hers and hers alone. Because he could.



Uncommon Passion is a must read for every erotica fan.


Warning
Uncommon Passion contains plenty of explicit sex (incl. oral but no anal), (view spoiler)
It's NOT a BDSM book.