5 blissfully hot stars! Where can I order a Ben of my own? Review completed August 15, 2013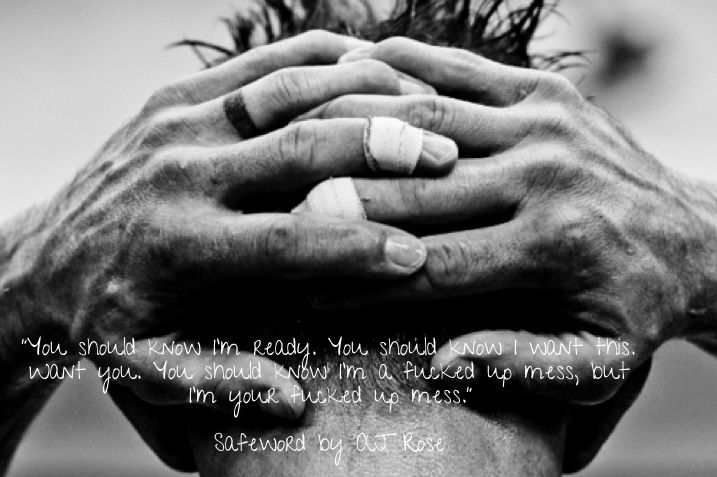 I have no clue what being high feels but immersing yourself in a fabulous book must be the equivalent of flying. Safeword made me fly into oblivion and Ben was right there to catch me. I'm still kinda buzzed and I don't drink either. As it is, I'm blissfully content right now, and you can believe me it's a friggin' good feeling.




Three months ago homicide detective Gavin DeGrassi returned to the job after an extended leave of absence. Gavin was not able to do his job anymore after he and his boyfriend and Dom, Ben Haverson, had been (view spoiler) Gavin needed intensive counseling due to the severe trauma he sustained. Even now, after extensive therapy, he has to deal with panic and anxiety attacks. Plus, he cannot submit to Ben anymore. BDSM play is out of the question for the time being and Gavin is jumpy and frustrated. The lack of trust also hurts Ben but he is very understanding and is there for Gavin whenever he needs him. Although I wouldn't have expected anything less from him considering his background as a psychiatrist. Back on the force Gavin is confronted with another evil crime and his family, friends and co-workers are concerned how he is going to deal with the situation. Plus, Gavin is out now and as expected is confronted with prejudice and judgmental comments and glances. It's not easy being gay and a cop.




The author did a fine job portraying their relationship. It's like a new beginning where Ben handled Gavin with great care. They have to rebuild trust, redefining boundaries. That's not something that happens within a few days. It's a rather long and difficult process and to be as supportive as possible Ben had to use his creativity. Thus I really liked the meaning and connotations of the (view spoiler) It was very thoughtful of Ben but at the same time Gavin (view spoiler) was hot as all get out. Nice move, Ben!


"You still need someone to take control sometimes, but now giving that control unbalances you. Believe me, I understand. I may not feel exactly the same, but I do understand."
"Do you?" I pulled back to look at him. "Does it bother you that I can't seem to trust anyone, even you?"


I liked to see Gavin's vulnerable side. It was hard for him to bare his soul, to be open about his fears and expectations. Yet he was very adamant to claim back his identity and he wanted to relinquish his power to Ben. Ben was his safe haven after all. Their chemistry is great and their love palpable and deep. Ben and Gavin form a beautiful couple and they really talked about their issues in a very realistic way. Granted, sometimes they had to tickle the underlying problems out of each other but they really stuck it out; they did not run away only to avoid their inconvenient issues.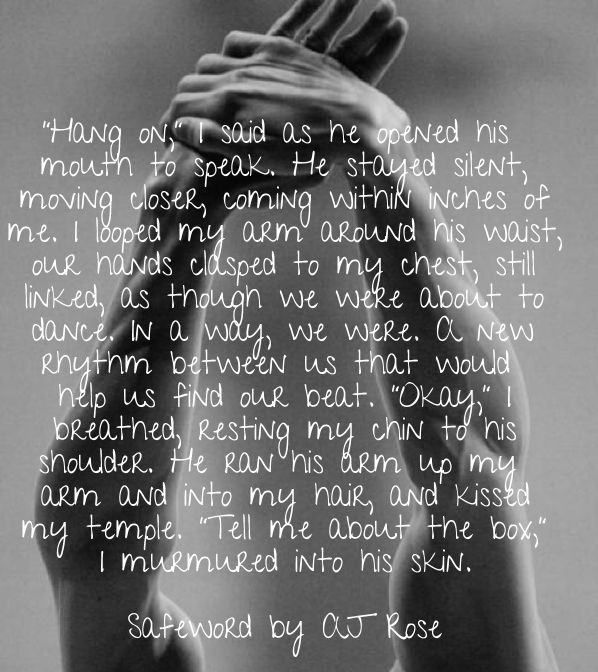 "You are the only one I want, sub or not, fucked in the head or whole. This last year, with you, I've woken up inside. I used to think it was the thrill of the whip, of seeing someone on his knees for me, or the heat of a freshly reddened ass that made me feel alive. Getting someone to fly with me, taking submission for the gift it is--that's a heady thing. It makes my nerves sing and my heart beat fast. Gets me hard and I feel like I can do anything. And that feeling is a pittance compared to being with you."
Speared, caressed, trapped, cradled, and claimed. I sighed and let myself drift in a sea of warmth and surrender and security.


Due to the fact that I'm reading much more m-m stories written by female authors, I jumped the gun when I posted my first update and made a little faux-pas. I'm sorry, AJ. In any event, the more I read the more I was convinced that Safeword has been written by a man coz no woman would write this kind of sex scenes. It's difficult to explain but you will know what I mean when you read the book. The sex is so…for want of a better word…male, intense and provides a hotness factor that will make your girlie bits tingle, yet at the same time it felt incredibly intimate and tender. I'm not familiar with BDSM in real life but the scenes felt very authentic and the author set them up perfectly. Safeword is a highly enticing combination of very hot smexy times, a really good and entertaining plot and well developed characters. Even though it's not all that of a mystery who murdered the victims, I found it absolutely enthralling to follow the investigations nonetheless, and the author was able to keep me glued to the pages. You might as well buckle up for the final 20 % coz the shit really hit the fan then and there.


"What are you doing?"
"Trusting you," I answered hoarsely, squeezing his hips with the insides of my legs bent at the knee. "As much as I can right now, let me trust you again."


Seriously, I wanna kiss and hug my Kindle, I wanna shout it from a rooftop…I LOVED Ben! First meeting and Baba was a goner. He is an amazing and very classy guy and therefore he's getting a special place on my shelf of favorite heroes.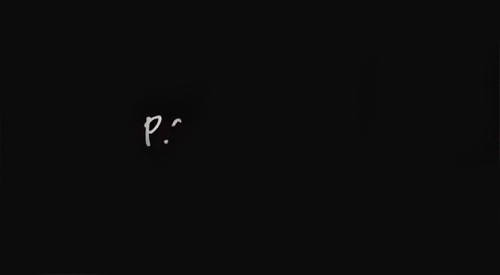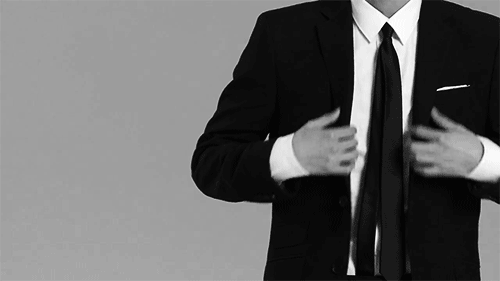 He combines so many fine attributes that I want to see in a hero. It goes without saying that he is a very attractive man with a gorgeous body and sexy men in suits have that certain something. However, what makes him even more appealing is his intelligence, perceptiveness, empathy, and his ease and calmness. As it is, he says and does the right things. Granted, he is not without flaws but that's exactly what makes him perfect to me. He is perfect in his very imperfection. In fact, I worship the ground he walks on; too bad he plays for the other team though. *pouts*

(view spoiler) Ben made me feel powerful even in utter submission, when my giving him everything made the greatest gift possible. For a moment, I was me again. Whole. Kissing my Dom. Totally his.

Aaaaand, wonders never cease coz I really loved Myah. I get the impression that male authors don't tend to write women who grate on my very last nerve; thanks for small favors. They obviously understand what I want out of a female character. Myah is an extremely likable woman. She is witty, open-minded, sharp, protective and she gave as good as she got. She could hold her own, for sure. And while Ben marked a very solid presence in Gavin's life and was the tower of strength, Myah backed him up anytime and anywhere. She truly rocked! This leads me to Gavin's family and their dynamics in general which I really enjoyed a lot. It gives me a fluttery feeling in my tummy every time I think about Gavin's loud, affectionate and cheerful family and their Sunday brunches. Good times.

Safeword is a fabulous read and among my favorite BDSM books. I guess that AJ Rose is in very good company with my absolute favorite BDSM author Joey W. Hill, author of Rough Canvas (M/M), Ice Queen and Mirror of My Soul (M/F).

While the book worked for me as a standalone, I was so utterly drawn into Ben and Gavin's life that I want to read more about them. So, I'm excited to go back to book 1 Power Exchange, trusting that I will be reading another good story. Whispers…reading out of order is fun after all. :)

Kinky Reader's heaven rarely feels this good. I hope to fly someday soon. Again.


I looked forward to a whole lifetime of tomorrows.



P.S. Favorite scene: (view spoiler) How hawt was that???


Recommended read.