5+++ edible and lick-him-all-over stars.*****Review completed June 27, 2013




To those who want to flag this gif: Please look closely. She's wearing panties and a bra. Besides, to prove it I have the kissing part in color. Check out the spoiler. She clearly wears a bra. It just happens that I prefer my gifs and pics in black and white though.(view spoiler)




I know, I know, watch your language Baba. But. Excuse me while I have a little moment here. Holy fuckity fuck! I tell you every woman needs a Cole in her life coz one thing's for sure, your libido is going to soar sky-high. Holy smokes, the man is fuckinghawt and he could boss me around anytime! Geeeeee-zus…I wanna lick him all over. *shiver* I truly adored Mason inExquisite but Cole totally ramped up the hotness factor in Edible. Holy crap! Seriously, I'm a bit speechless, and I'm drooling all over my screen right now. Edible, scrumptious, delicious, tasty, sinfully sexy, hot, pedantic, bossy…that's so Cole. I wanna jump his bones or he can jump mine, I really don't care which way we do it as long as we do it. Friendly heads-up, don't faint when you meet him coz you'd miss out on someone very special and likable…er… lickable. Yeah, the man is a walking and talking contradiction. Turns out that our stuffy, hot and self-possessed suit is so much more than meets the eye. As a lawyer by day he is very disciplined, reserved and well-mannered and by night he has an utterly delectable and filthy mouth that he can put on me anytime he wants to. Mind you, he can put other body parts into me as well. Cole, I am so ready to sin!


"Would you like a taste, Baba Rachel?"


Yes, please! Cole, you are such a tease. *groan*


Edible is not a BDSM book. Having said this, Cole likes to play by being bossy and controlling. After all, it's all about the mind...


"There's one small problem here, don't you think?" she questioned.
(…)
"And what's that?" he asked with a smile.
Rachel swallowed and decided it was now or never.
"We both want to be on top."
Cole couldn't help the wicked thrill he felt snake up his spine at her words.
"I'm not averse to being underneath you, Rachel, not in the least."
Keeping his arms firmly behind his back, he lifted his mouth from hers and moved it to her ear.
"I can't touch you, Rachel, and god, I want to. I want to undo these sexy leather pants and slide my hands inside. Or maybe, I could lick the skin that's peeking out between the laces, but I can't. You said no."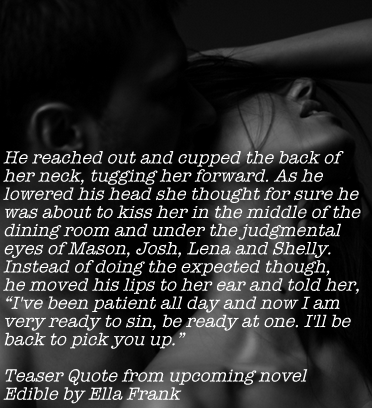 "Rachel," he groaned.
She raised her eyes to him, and bravely, she told him, "Stop being so civilized."
And that was all it took.
Cole lost it.

"Fucking hell," he cursed as she sucked on his fingers in a way that made his cock jealous. When he finally pulled them free from her mouth, he released her chin and gripped her hair firmly. "Suck me, Rachel. Put those sticky lips around my cock and suck it good."
"You know for a man so immaculately dressed, your mouth is filthy, and your manners are terrible."
Looking down at her hand, Cole watched as it moved to the buttons of his vest. "I don't really think it's my manners that you're interested in."
Raising his head, Cole released her arm and gestured to the open door. "Lead the way."
"And you'll follow? Yeah, right. Since when do you follow anyone's orders?"
Cole walked with her to the door. "Since around forty minutes ago."
"And how that does feel?"
"I fucking hate it," Cole admitted honestly.
"You have such a filthy mouth," she pointed out, stopping in the doorway to the busy kitchen.
(…)
"You're right. Maybe you can clean it for me with your tongue later."



Their chemistry is explosive...





Minor quibbles
Due to her past Rachel had issues and didn't like to be touched. Frankly, I found it a bit hard to believe that she yielded so quickly. On the other hand, however, I felt that she craved Cole's touch so much more than she wanted to reject him. Around the 70% mark something happened that surprised me. I felt it transpired too soon and yet it kinda fit the somewhat flamboyant personalities. Anyway, all's well that ends well.


Ella Frank is one of my favorite contemp romance and erotic authors and with Edible she served me another hot, incredibly spicy yet sweet and tasteful meal right on a silver platter. Although the sweetness has nothing to do with her writing. If anything, I'm referring to the caramel in all its variety. Need I say more? Um…use your imagination. Just saying…
I have read four books from this author now and while her voice is distinct there is a pleasant diversity to her characters and stories that makes me anticipate her new books all the more.




I truly regret that I don't drink wine because Cole and a bottle of wine is such an enticing and slick devilish combination. Oh my, I couldn't for the life of me resist him.




There is plenty of sex in this story, however, as long as the scenes are so compellingly written, then I won't complain. Hell, I don't mind when Cole wants to tear off his clothes a hundred times. I must say that I was blown away by their exceptional chemistry and it really caught me off guard. So, right from the start when these two stepped on the page they just fit without contradiction in spite of Rachel's resistance. Well, Rachel didn't stand a chance against a very tenacious, sly and convincing Cole. The man is abso-fucking-lutely infuriating and arrogant (in a very good way), yet utterly perceptive. *wiggles eyebrows* I really liked Rachel a lot who neither could defy Cole's control nor could she evade his steadfast presence. Cole just brought the best out of Rachel.

I loved Cole from head to toes. Honestly, the man is something else. Without a shadow of a doubt he knows what he wants, when he wants it, and how he wants it. He was clearly intrigued by Rachel and her colorful personality. Hence, he so wanted to unravel her mystery and when he got her full attention it was a real treat to see them get down and dirty. I loved Cole's whispers, the ear biting, all the nibbling, sucking and touching. It was panty-melting hot. I worshipped his gorgeous body, his filthy mouth and his clever tongue and fingers. Even though Cole was very bossy and arrogant, he never lost sight of his main goal. Making Rachel his and satisfying her every need. Making her happy again.

Besides, I enjoyed to see the MCs of Exquisite and Entice again. That was the extra something and their interaction was fun and entertaining. I loved all the friendly bicker and banter. Also, Mason's brotherly love was endearing and I believe that Rachel couldn't have wished for a better sibling.

Edible is a delectable flavor that will satisfy your taste buds and your libido. Plus, it's a wonderful conclusion to the Exquisite series. Read. This. Book. Oh, and the teaser…best surprise. Ever! I'm totally antsy to get my fingers on this. Particular. Book. And like Paulo Coelho said: 'Be brave. Take risks. Nothing can substitute experience.' On that note, please keep them coming. Ella, you truly rock as an author, a woman and a human being!


"I want you to give yourself to me."





**ARC courtesy of Ella Frank, author, in exchange for an honest review. Thanks, Ella, it was a real pleasure…as always!**


P.S. Quotes approved by Ella Frank, author.