4 stars.****Review posted June 4, 2013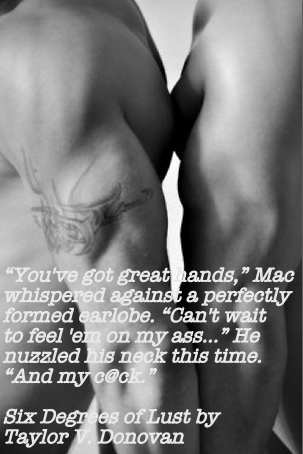 Our main protagonists are FBI agent and team leader Samuel (Sam) Shaughnessy who is living in New York, and bar manager Machlan (Mac) O'Bannon who is living in Houston, Texas. As a little side note: There is no denying it, Irish men are hawt.Sam is very busy working the case of a religious serial killer who is murdering young gay men. The evidence leads him and his team to Tangerine, a very popular gay club. Both men are bumping into each other at the airport when Mac comes to New York to check out the market and possible locations for a gay night club that his buddy Braxton was thinking of opening there. And Sam is in a hurry to catch his flight to take care of a family emergency. After a brief conversation Sam puts his business card in one of Mac's jeans pockets--phone call guaranteed…


"And here I was thinking you wanted me to teach you a few more tricks before you go out and start sharing my valuable lessons with everything out there that likes c@ck."

"I like for my sex to be casual and have no problems staying detached."(…)"You, on the other hand, sound like you're looking for Prince F@cking Charming. Let me know if he sticks around once you start comparing past histories and you tell him about that horizon of yours."
"If he doesn't I can always give you a call." Mac laughed a little and Sam wanted to strangle him. "I'm pretty sure you wouldn't give a shit about my track record, being how detached you remain and whatnot.
"And what makes you think I'd take you? One of the reasons I don't do seconds is I hate used goods."
Honor has not to be won, it must only not be lost.


If you don't like to deal with a rather huge cast of secondary characters then this story might not suit you. As a matter of fact, it wasn't easy to keep track of every character because there is a lot going on here. And even though the novel features two main characters, the focus of the story varies constantly and provides several subplots. Truth be told, I would have loved to see more of Sam and Mac and a little bit less of the secondary characters. We see Sam at his job, but also how he has to cope with his family issues, his circle of 'friends' and his impending non-relationship with Mac. And Mac has his own problems to take care of, i.e. his homophobic family and his pending coming out. As the story unfolds I was surprised to see that most of the characters are--in a sense--rather closely connected to one another. One has to wonder if that's realistic. On the other hand, however, I enjoyed the story as a whole and I didn't mind the (more than) random connections. One thing's for sure, the author did set up enough characters for future books in the series. Hence, I would love to read Logan (view spoiler) and Duncan's stories. Both are FBI agents as well as Sam's teammates. While Duncan is straight Logan is gay and Sam's best friend. Besides, Logan is a volunteer at the LGBT center Horizons. The man is pierced, tattooed and incredibly yummy. Logan being gay brings me to another minor issue. Don't throw rotten tomatoes at me now, but I seriously doubt that in real life an FBI team would consist of so many gay men. If I remember correctly half of Sam's team (or even more) are gay or bisexual. Though I'm willing to overlook this little issue because that's the reason why we call it fiction, right?

"He sounded like he wants to have fun."
"While he looks for Mr. Right. What if you're it for him? Better yet, what if he's it for you?"
"Bite your tongue!"
"You're playing with fire here. Be ready to get burned…just like those sheets you mentioned before."

"All I'm saying is you should forget about the rules and live dangerously for once. Ride this wave, see where it takes you."
"I'm riding the wave already and it'll take me straight to Mac's ass. That's as spontaneous as I'll ever get."


Sam is not a very communicative kind of guy and neither does he enjoy to socialize. He prefers 'acquaintances' instead of a big circle of friends. He doesn't do relationships and doesn't want to show his feelings. Plus, he strictly refuses to get attached to people or vice versa. I can't deny it, Sam's personality shows an asshole-ish tendency, and he is selfish and hard to approach yet his best friend Logan knows there is more to Sam than that; behind his armor hides a very likable man. Naturally Logan is right and Mac's smart mouth is the reason why we'll see a different side of Sam eventually. In fact, Mac is rather perceptive and also manipulative but in a very good way (see the next quote). I think Sam's difficult personality is connected to his hang-ups and certain events that happened in his past, i.e. (huge spoiler) (view spoiler) So, while Sam is only game for hot and sweaty fu@@athons, Mac wants more than that, but he has to figure out how to convince Sam without scaring him off. Seriously, I'm already very curious to see what will happen in the sequel and how their non-relationship will develop.

"He has a way of making me do things I would never do without looking like he's actually trying to get me to do them. So far he's been this power bottom. I think he's been topping me from the bottom from the get go."


I loved the scenes between Sam and his nephew Nicky. Sam has a very good hand with kids and he really cherished and protected the boy. He was determined to provide a loving home for him. Also, the scenes at the LGBT center Horizons were great and have been placed rather prominently throughout the plot. If you want to give a long-distance 'non-relationship' a try, then you must be resourceful and flexible which leads me to another entertaining aspect of the story. The e-mails and texts between Sam and Mac. As it was they never failed to make me laugh.

Some of you will remember that I mentioned in one of my updates that I had to do a double check if the author was male or female. While I thought the beginning could have been written by a man, I have to admit that I didn't get those vibes throughout the rest of the story.




The suspense part of Six Degrees of Lust is pretty minor if I may say so, and I think I figured out who the killer is. Hence, I think you shouldn't read this book for the sake of suspense; read it for the sake of a great cast of characters and the interesting storyline. Last but not least I need to say a few words about the sex scenes. Interestingly enough, there is not a lot of men lovin' to be found, however, what was there was sexy, well-written and even intense at times. Their first erotic encounter was very hot and I also liked the emotional interlude in Miami. Sam coming undone was beautiful and I enjoyed their cuddling. More please!

What didn't work out for me
Once again the endearments didn't do anything for me. But that might be just a personal issue of mine. So, don't let it put you off and give this story a try.

Overall I'm very glad that I read Six Degrees of Lust despite its rather high price. It's a solid story, engagingly written and provides plenty of great scenes and dialogue as well as a nice dose of humor. Sam and Mac will have to overcome a lot of obstacles and yet I'm sure they'll manage eventually by taking it…

"One day at a time."


Recommended read.


The sequel is Six Degrees of Separation. Release date August 2013. I advise you to read the books in order.