4 disturbing stars.****Review completed July 31, 2013

UPDATE: I added the author's message to my review. Scroll down...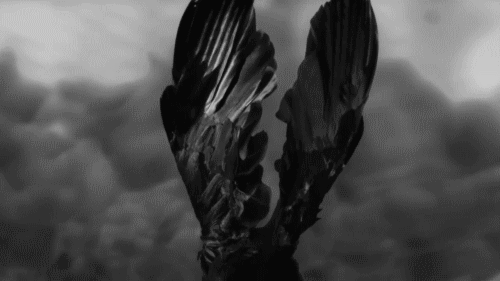 Even though the MCs did not go swimming this gif kinda reflects the story for me. The hot tub (water), the darkness, the stillness, trying to evade the ugly past, not really wanting to remember what happened and yet he will emerge again to face up to the trauma.

When Kevin is thirty-two he walks into Tom's office for counseling after he tried to commit suicide. After this interesting yet not so fruitful session, both of them knew Kevin would not come back again when he walked out of Tom's office. Three years later Tom meets Kevin again when he needs help with his broken hot tub. After the repair is done they get into a conversation and over the next few weeks they form a friendly yet halting relationship. But might there even be an option for more than friendship or is Kevin only a little bit bi-curious?


"I can't think of any way to ask this," Tom said, "without sounding like I think you're five years old. So forgive me. But…you can tell the difference between platonic love and romantic love, can't you?"
Kevin gave him that shy smile, and Tom knew he wouldn't be able to keep up his resistance much longer. "It feels romantic to me, counselor."
"Really?"
"Yeah."
"Then are you saying you want to be my boyfriend?"
"If you can handle (view spoiler) (…)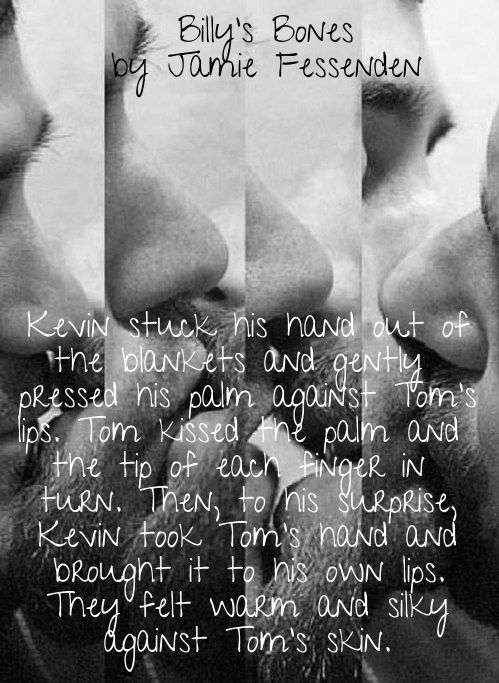 At some point, the rain had started, and it was coming down in a torrent outside, making Tom feel as if they were isolated from the world, buried together beneath the warm blankets. He liked the feeling. And he liked the feeling that had welled up in his chest as they had toyed with the word "boyfriend."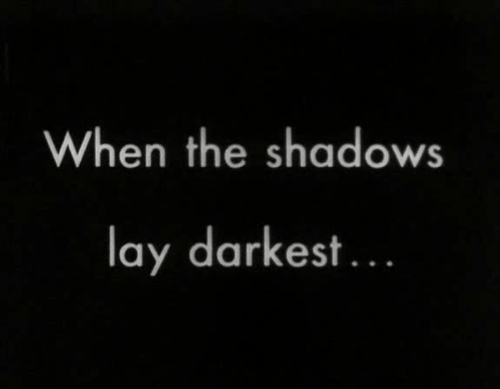 Kevin rolled his eyes, but he drew the bottle out of his pocket and took one of the tablets out. Then he held it up dramatically in front of Tom's face before popping it into his mouth.
Tom ignored the mocking gesture. "Aren't you supposed to take that with water?"
"I was hoping you'd lift your shirt so I could suckle off your tit for a few minutes."


I believe it would be favorable to go prepared into this story IF you are sensitive to the ugly subject matter of(view spoiler). I strongly advise you to read the author's note. Billy's Bones contains scenes which could be possible triggers for survivors of (view spoiler)

In spite of all that I'm glad I read this book. I'm also glad that after an incredibly slooooow beginning the story turned out to be well worth reading. On the other hand, I must admit I'm not surprised that Billy's Bones is such an intriguing read because the author really sucked me in with his engaging writing style right from the first page. Also, let me clarify something. Even though the story starts off so slow, I'm sure it accommodated the plot tremendously which unfolded progressively. And, the slow build-up supported Kevin's credible character and did intensify the uncertainty. All of his actions were comprehensible except his sudden urge for (view spoiler) Well, I guess you should cut me some slack coz I'm only a little amateur shrink. Oddly enough, I knew what happened to Kevin early on, and yet I felt a certain lack of knowledge which was always hovering over me, nagging and teasing me. When you look at the (view spoiler) and it made me kinda itchy. Having said this, it also helped to maintain a rather high level of tension all the time. What I like about this kind of story is the fact that I, as the reader, can act as a little amateur psychologist. It's fascinating to delve into a mind like Kevin's and to go along with his panic attacks and to pick apart his self-defence mechanisms. So, if the author gives you so much food for thought it's easy to draw your own conclusions. When I read about how (view spoiler)

Kudos to the author who did a fine job with the research as well as the handling of the sensitive subject matter. Moreover, Billy's Bones reads realistically and you can feel that the author put a lot of effort into the story. The meticulous build-up to the final ugly "climax" was extraordinarily well done. Kevin's diverse triggers paved the way for an excellent, intense and gritty trip to unraveling a (view spoiler) mystery. Plus, it was also a journey to remembering and dealing with a very ugly truth. One thing really creeped me out. A certain song (view spoiler) plays a major role in this story and the band (view spoiler) was among my favorite artists when I was in school in the 80s. I won't lie, it kinda chilled me to my bones when I replayed the song in my mind. Yeah, I was back in school for a little while, though the reason was not a pleasant one.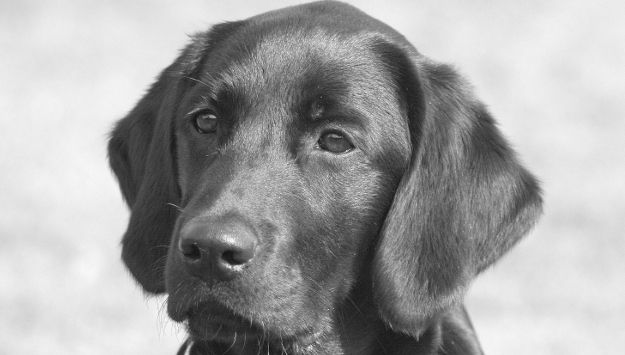 As an afterthought, let's not forget Shadow the one-year-old Labrador pup. He really did cheer up the tense atmosphere and made me smile a lot. Love me some affectionate dog eyes. *melts*

The storm…



A friendly heads up
The steam level of Billy's Bones is practically zero, but you should read this story for the sake of the great plot and writing and the very good and in-depth characterization of Kevin.
I wouldn't classify Billy's Bones as m-m romance coz I couldn't for the life of me find anything romantic about it. And even though there were some touching and endearing moments between Kevin and Tom, the intimate interludes fell a little bit flat for me. I'd say this is more m-m fiction.

What did not work out for me
The epilogue and the out-of-the-blue urge (view spoiler) I'm sorry but that did not add up for me at all because after such an intense read I didn't expect want a quick and light-hearted ending wrapped up in a nice bow. Also, I could not understand that Kevin (view spoiler)

Billy's Bones is my first read by Jamie Fessenden and I hope it won't be my last. If you don't mind the difficult subject matter and you prefer an m-m read that provides way more thoughtful story than smexy times then I must ask you: What are you waiting for? Buy this book and read it. Uneasiness guaranteed.


Recommended read.

I spoiler-tagged Jamie Fessenden's message. You shouldn't open it if you haven't read the book yet because it's definitely a spoiler.

(view spoiler)