Re-read and buddy read with Rosalinda, Stella, Susanne, and Jen March 28, 2013. Review edited March, 29, 2013

"Sex is only dirty when it's done right."
- by Woody Allen




Our heroine, Laurel White, sees a man abusing his girlfriend in the street when Michael Flynn comes to her rescue. He intimidates the mean boyfriend. Laurel is rather impressed by Flynn's deed and is running after him and offers him lunch. She is kind of outspoken and expresses an interest in him. There seems to be something about Flynn...not charisma but raw energy. As it was, Laurel had hit an emotional wall in the last couple of years and being so close to all that sexy male hotness feels very good and magnetic. She craves something different, something new. Though Flynn is a bit wary and tells her she may not like what he loves, however, she'd be welcome to come watch him fight. As a matter of fact, Flynn boxes in informal fights. There are really no substantial rules to those fights and that's exactly what he likes so much. Of course Laurel shows up for the fights and is fascinated instantly.


Laurel pursed her lips. "Are you threatening me?"
"I never threaten a woman unless she begs me to." His smile came slow and sticky, dripping with put-on sweetness.

"Right, Laurel White. I'm Michael Flynn." He shook her hand curtly. "You've (view spoiler) and we know each other's full names. That enough for your first night?"

"Well, draw yourself a pretty little blueprint and do me a favor and don't show it to me. I like fighting, and I like f@cking. I don't care much for thinking."
"I'm so f@cking ready, you're gonna get me off before we start playing. Taste me," he ordered.


Let's get down to business. Flynn and Laurel met to explore the rougher side of their sexuality. That's the reason why fluffy, sweet, and shy were not in the cards.
Hands-down the sex is very hot, erotic, arousing and a little bit kinky. It's possible that your panties will melt. Truth be told, sometimes I felt like an intruder, a voyeur. Though I think that anything goes as long as it is consensual. Besides, playing games and indulging yourself into role playing is something very thrilling. Granted, I've never had the urge to have rough sex and I never felt the need of being 'forced' either, however, I can see that those fantasies can be tempting, intriguing, and fascinating after all. It goes without saying that Willing Victim is about fantasies and very hot and rough sex. Besides, it's definitely not an in-depth study of multilayered and complex characters. Although Flynn and Laurel are very likable nonetheless. Whew, Flynn is one seriously dirty talker…love him! <3 And no, Flynn is not a selfish prick. He is actually a very sweet guy, and wonders never cease because the man who doesn't think he is relationship material starts to cuddle.


"I'm a selfish prick, and I want to be the greatest f@ck of your life and ruin you for every man who comes after me. But I'm not a mind reader, so I need some help. Otherwise I could end up as the douchebag who's got shitty taste in wine and totally traumatized you when you were thirty."
"Twenty-nine."
"So tell me," he breathed, right behind her ear. "What do you want me to do to you?"

"I'm at the Dunkies by my site and I figured out what you smell like."
Laurel made a noise only she heard, a little laugh caught in her nose. "Oh. What's that?"
"That gooey stuff inside a Boston crème donut. That's what you smell like. Now I'll get a hard-on every time I eat one."
She snorted. "Did you just call to sexually harass me?"
"I'm allowed now, ain't I?"
"Aren't you supposed to wear a mouth guard?" Laurel asked.
(...)
"I hate those things. They make me feel like I'm choking on something."
"Guess I'll never get you into a ball gag, huh?" she asked.
Flynn met the remark with a withering sneer. "Keep that snark up and you'll get yourself punished, missy."

"F@cking lay still," he whispered. He reached down and pushed the crotch of her panties to one side, big fingers finding her pussy wet and ready. "Oh yeah, you're gonna feel beautiful."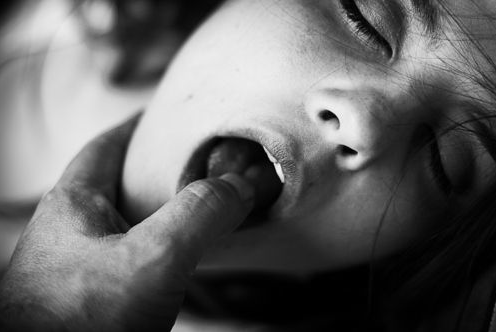 He forced his thumb between her lips, got her teeth apart even as Laurel bit down as hard as she thought she could without breaking his skin. His tongue slid into her mouth, finding hers and giving her as explicit and dirty a kiss as he could manage. He pulled away, keeping his face close, pressing his forehead to hers and sliding his thumb out of her mouth.

"Let's quit our jobs and f@ck all day."
He pressed his neck into her touch, spoke through a heavy sigh. "I like when you do that."
"Do what?"
"You know…" His voice faded to a mumble. "Fuss over me."
"Take care of you?"

"And maybe afterward we could come back here and not have sex."
"Sounds fucking sensational," Flynn murmured, pulling her tight against him so she felt his hardening cock. "Can't wait to not have sex with you."


What I especially liked was the fact that the author didn't end the story with a promise of everlasting love. Even though there was not an outspoken "I love you" they will continue to see each other and there is a HFN. This being said, I'm really glad there wasn't a lover's oath because that would have been too sappy and they hadn't seen each other for a long time after all.


"You keep busting my balls and I might just trick you into sticking around."
She laughed, embarrassed and flattered. Relieved.
"But don't worry, not 'til we get better at not having sex."


Finally, the author advises readers who are sensitive about rape, even in a simulated and absolutely consensual capacity, not to read this story. This may sound kind of odd, however, when I was reading Willing Victim the concept of rape never entered my mind. Laurel had a safe word, and I appreciated the fact that the author 'showed' me that Flynn immediately stopped whatever he did when Laurel used it.

What didn't work for me
Flynn calling Laurel 'kiddo' was annoying, and I very much preferred 'sweetheart'. The book is f@cking good but too f@cking short. Well, I guess you get the gist. ;-)


Highly recommended to readers who want to explore the darker side of sexuality.


Steam 4

**********************

Thanks for the buddy read, ladies! Gotta make it very clear though...I got dibs on Flynn!