4 stars.****Review completed September 30, 2013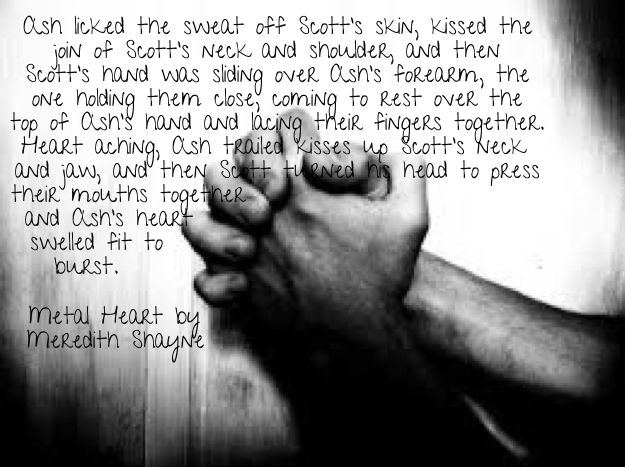 Metal Heart starts off with a prologue which is set in 2011. Scott King, 41, is a well-known music producer and the former lead guitarist of King Phoenix. The band split up sixteen years ago, and since then Scott preferred to live a rather secluded life together with his sister and his niece in rural Berry, Australia. However, when Scott gets a phone call from his former boyfriend and love of his life, Ash Walker, who is also the former lead singer of King Phoenix, asking him to join their band for a benefit gig, he can't decline the request. Their former sound man 'Slapper' is dying and they want to raise money for his wife and kids.




It's hard for Scott to meet his band members again because the circumstances of their break-up were dramatic. Scott (view spoiler) I will get back to my spoiler in my review because I almost threw a fit and wanted to smack Scott for being so stupid and selfish and self-righteous. I had to deal with a long-known problem that many stories provide frequently: Lack of communication. Oh, yes, let's jump to conclusions, shall we?

Fast-backward to the year 1990. Dean Jones is telling Scott that King Phoenix is on the lookout for a new lead guitarist. When Scott is listening to their demo tape something specific is pretty outstanding. The front man's sexy voice.


But the hooks weren't what had Scott transfixed. That was the fault of the singer, who possessed a deep, gravelly but surprisingly melodious voice that had just enough growl to it in the lower registers that shivers ran up and down Scott's spine at the sound of it. It was a dirty voice, a smoky, sexy voice that promised all sorts of filthy things. It made heat curl low in Scott's belly, but he welcomed that feeling and didn't try to fight it. Lust was good for music. Lust and music went hand in hand, because lust was about feeling heat deep in your bones, and so was music.(…)


So, when Scott is auditioning in front of the three band members, everyone is impressed by his skills and they hire him on the spot. Also, Scott and Ash feel an instant attraction for each other (Rosa…no insta-love though).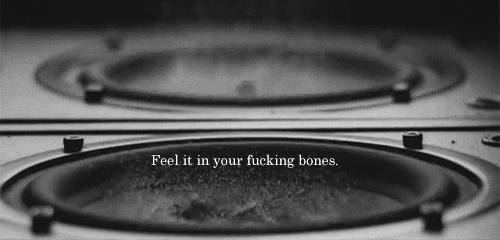 "This is meant to be, Scott. Can you feel it? I can feel it in my fucking bones."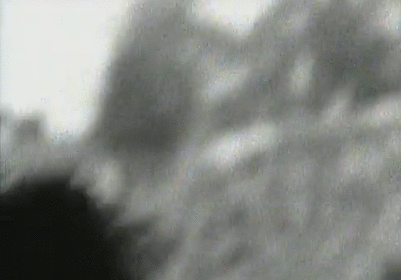 "Jesus Christ," he said softly. "This isn't a band, it's a fucking circus."
"You can say that again," Ash said.
"I--I didn't know any of that."
"No, you wouldn't, would you? Because all you ever do is think the worst of me, don't you?" You did it then, and you're still doing it now. Did you ever fucking ask what happened?" Ash stepped toward him. "Even if you didn't want to talk to me, did you ever ring Dean and fucking ask him?"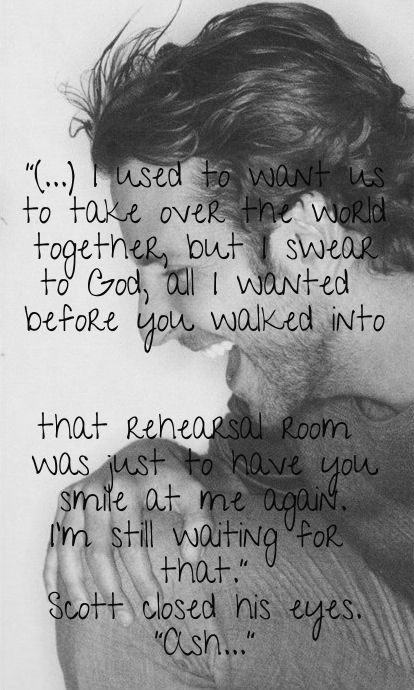 I liked the first half of the book but around the 53 % mark I was ready to throw a fit. At that point Scott freaked out because of(view spoiler) Then at 55 % we fast-forward to the year 2011. All things considered, what stands out for me is the second half of the story. It was filled with tension (not only the sexual kind of tension) and plenty of conflict situations. Even though I wanted to shake both Ash and Scott, telling them to FINALLY have THE $£?!!*%£&"+? TALK, I was willing to wait and give them time. Boy, but it was hard on me! I won't lie, it was really frustrating. I always had an inkling that Ash (view spoiler) WTF? I mean…seriously…for sixteen f@cking years you don't take your finger outta your ass to clear up the air? It was obviously enough what Mel (his sister) said. Again, I was ready to…ugh…ugh…ugh.




I did understand Ash's disappointment. Granted, he made mistakes but it was nothing compared to Scott's shitty behavior. In fact, none of his band members told him to (view spoiler)Scott never wanted to listen to Ash and made the wrong decisions and dug his own pit. He fell prey to a (view spoiler) On the other hand, when you're twenty-four-years old then you are old enough to think about the consequences of your deeds or so I thought.


"Hey, every rock band needs a good ballad."
Scott laughed. "Not this one."


November Rain by Guns N' Roses

https://www.youtube.com/watch?v=8SbUC...




The writing is solid and engaging and the chemistry between the main protagonists is irresistible. Maybe there was a tiny bit too much narrative for my liking during the first half of the plot. The first half depicts the life and struggles of an upcoming band, life on the road abroad and falling prey to temptations. But it's also about Ash and Scott's 'secret' life as lovers and how everything fell apart.

When Ash and Scott finally talked, it was so cathartic and I thought "Yes! Now the road is clear and they will confess their undying love." Yeah, when pigs fly, right? Let's just hit the next wall. To sum up, I can say that I enjoyed the second half of the plot a lot which provided less narrative. Scott had to deal with long buried emotions and feelings but the conflicts somewhat drained me and it was an exhausting road to witness Ash and Scott's HEA. Still, it's definitely worth reading.


"I'm still not very good with words."
That's all right. If it's your song, I don't need lyrics to know what you're saying, Scotty.
"I can barely even talk to you now, but…my heart is in that song. Tell me you can hear what it's trying to tell you." He closed his eyes again. "Please."
(…)
"It's your song, isn't it?" Ash said, tilting Scott's face up, brushing their lips together. "Of course I can hear it. It's muffled right now, but…I can hear it."



Recommended read but you'll need some metal nerves. Just saying...
P.S. I really loved their "grown-up" sex scenes! <3